With high level scale detail the E-flite Clipped Wing Cub 1.2m BNF is an acrobatic park flyer built to provide the pilot with a tough and versatile craft that gives you the look of the classics with the technology of the future.
Brushless motor for high power paired with a tough 40A ESC
SAFE Select option for flight envelope protection
Combination of big power, classic looks and great aerobatics
Scale covers and wheel pants for the shock absorbing landing gear
6 channel receiver from Spektrum equipped with their superb DSMX technology
Constructed with EPO foam that combine to give you lightweight and tough durability
Solid composite reinforcement on simple one piece wing
Fitted with AS3X technology for precision and stability
Four micro servos installed for four channel control
Excellent scale detail on surface, engine and propeller
Can be converted to float plane with optional float set (HBZ7390 sold separately)
Easily visible paint scheme
Powered by 3S LiPo batteries and will take anything in the 2200 to 3000 mAh range
Easy battery changeover with a large top hatch
Aluminium struts that fold away and have quick release hardware
E-Flite's Clipped Wing Cub RC Plane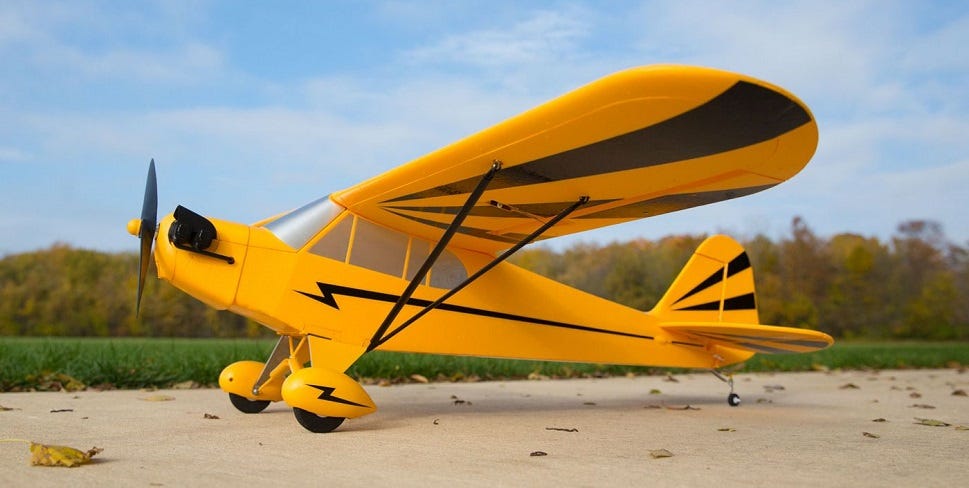 The Clipped Wing Cub owes its origins to a group of pilots modifying the design of the existing Cub in their search for a budget aerobatic alternative. The simple clipping of the Cub's wing turned it from a legend of the flying world with a gentle flight envelope into a versatile, power-packed, aerobatic sensation. E-flite's version of the Clipped Wing Cub 1.2m park flyer delivers a scale version high on detail, flight envelope versatility, and, big on power.
If you are a 'Cub Lover' you are going to want to get your hands on the E-flite Clipped Wing Cub 1.2m BNF version. Assembly requires the mere turning of a few screws and the attention to detail on the Clipped Cub is outstanding, right down to the trademark cooling baffles emphasising the distinct engine detailing. Within the nose section is a motor system that delivers brushless power which translates to superb throttle response and brilliant vertical performance that would make a full-scale Cub pilot envious. You'll be able to take off and land the Clipped Cub like a veteran with shock absorbing landing gear that hasn't missed out on getting the scale detail touch with matching balloon shaped wheel pants and strut covers. The E-flite Clipped Wing Cub 1.2m BNF can go from relaxing park flyer to an aerobatic powerhouse by just pinning the throttle and putting it through its paces!
High scale detail
Through the use of strong, lightweight EPO foam, E-flite has been able to appoint the Clipped Wing Cub 1.2m BNF with a level of detail that brings intricate full-scale elements to life on this scale park flyer. You'll enjoy watching your Clipped Wing Cub soar through the air as much as you do flying it!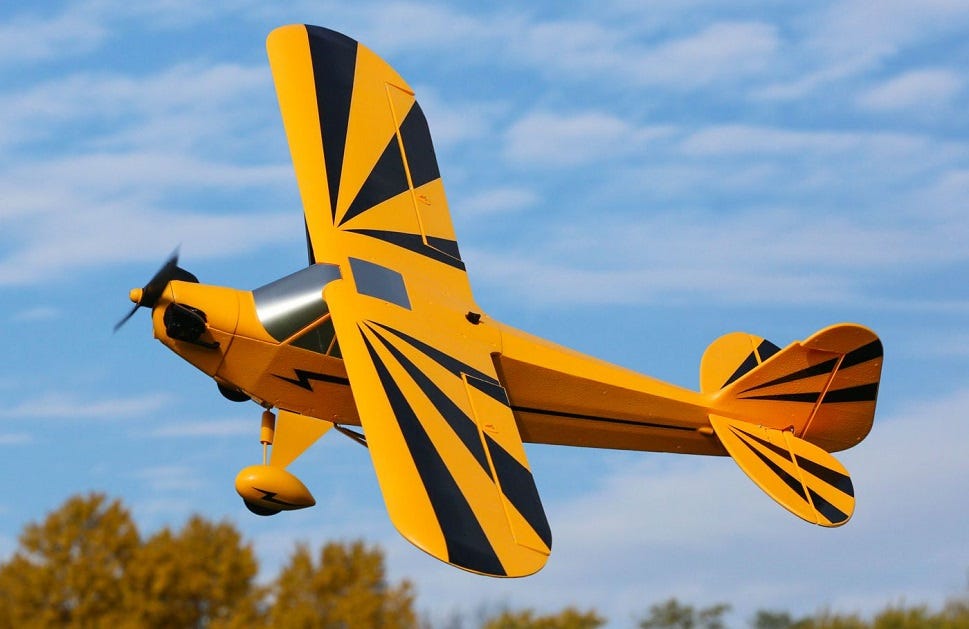 Adding to the authentic Cub 'look' is the scale detailed cooling baffles and exposed engine cylinders. The icing on this Clipped Wing Cub cake, and what sets it apart, is the scale matching wheel pants and strut covers which conceal the shock absorbing landing gear that articulates as the hidden springs help you handle your groundwork like a pro! Incorporated seamlessly into the fuselage is a top access battery hatch that allows for a quick LiPo change over before getting back into the air.
High power, ultimate control
The E-flite Clipped Wing Cub is equipped with a brushless, high speed 10-size outrunner motor that is paired with a tough 40 amp ESC. When connected to a 3S LiPo anywhere in the 2200 to 3000mAh range the Clipped Wing Cub's 2 blade propeller will give you the power to weight ratio that will allow you to explore the aerobatic capabilities of this 1.2m BNF rocket.
Equipped with Spektrum's AS3X (Artificial Stabilisation – 3-axis) technology, the E-flite Clipped Wing Cub 1.2m BNF is able to largely negate the effects of any turbulence or wind and smooth out your craft to the point that it feels like you are flying a much larger, expertly tuned aircraft.
Turn your plane into a float plane
The E-flite Clipped Wing Cub can easily be turned into a float plane by installing an optional float set (HBZ7390 which is sold separately). Your floats can be fitted with a few screws and some elbow grease and you'll then have a craft capable of taking off/landing from your local dam or lake.
Full-range, 5+ Channel DSMX®/DSM2® transmitter
2200–3000mAh 3S LiPo flight battery
Compatible LiPo charger
(EFL5150)
Be The First To Review This Product!
Help other Performance Hobbies users shop smarter by writing reviews for products you have purchased.
---
More From This Category